Original URL: http://www.azstarnet.com/star/fri/31219GRADUATIONRATES.html
Arizona HS grad rate high
ARIZONA DAILY STAR
December 19, 2003
By Sarah Garrecht Gassen

Almost three in four Arizona students graduate from high school, a figure that's higher than the national average, state officials said Thursday.

Just under 71 percent of Arizona students who started high school in the state finished at an Arizona school, based on data from the 2000-01 school year.

That's about 3 percentage points higher than the national average of 67 percent, according to the National Center for Educational Statistics, part of the U.S. Department of Education.

The Arizona graduation rate increased from 70.8 percent in the 2000-01 school year to 72.9 percent in 2001-02, state data show.

Looking at the graduation rate - which includes students who begin and finish high school in Arizona public schools - provides a better picture than comparing Arizona's dropout rate against other states', said State Superintendent of Public Instruction Tom Horne.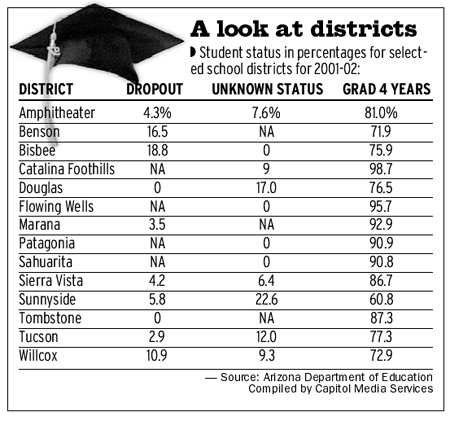 States calculate dropout rates differently and therefore the data aren't a good national comparison. But graduation rates are more consistent from state to state, he said.

For example, Arizona counts students who leave school but earn a General Education Development degree, commonly called a GED, as dropouts, but other states do not include such students in the dropout tally.

Arizona does not count GED recipients as high school graduates, Horne said.

Arizona has historically ranked near the bottom in studies that score states on the dropout rate.

For instance, the Children's Action Alliance released figures earlier this year during the legislative budget debate showing that Arizona had the highest percentage of teens who are dropouts. Carol Kamin, the group's executive director, used that statistic and others dealing with children to argue for more money for early childhood education and child abuse prevention programs.

Tucson Unified School District credits its graduation rate of 85 percent in 2002-03, which does include students who leave but earn GEDs, to a strong alternative education system and dropout prevention program designed to track kids who leave the district, said Kelly Langford, senior academic officer for student services.

"This is the result of parents and teachers and others at the school connecting with kids," Langford said.

Horne said business groups have supported changing the focus from dropout rates to graduation rates.

A business leader agreed.

"Close to 99 percent of companies that relocate hire within the local market, and a well-trained, qualified work force is the most critical issue when you're trying to attract a company to your area," said Steve Weathers, president and CEO of the Greater Tucson Economic Council.

"Large companies know what to look for," Weathers said. "Companies from outside this area, when they're looking at us, they look at dropout rates, graduation rates, test scores - all those scores."

* Howard Fischer of Capitol Media Services contributed to this story.
* Contact reporter Sarah Garrecht Gassen at 573-4117 or at sgassen@azstarnet.com.