Play group speaks her language
Arizona Daily Star
June 05,2006
German culture is the focus of monthly sessions
By Shelley Shelton
Tucson, Arizona | Published:http://www.azstarnet.com/allheadlines/131990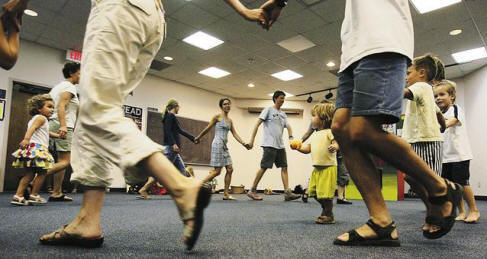 Margit Rigney learned a little too late that children don't absorb their foreign parents' native tongue and customs as easily as people claim.
Rigney came to the United States from Ulm, Germany, almost 25 years ago, when she was 20.
Upon having kids, she wanted them to know German, and everyone told her it would be easy to expose them to it at home.
"I learned it's really not," said Rigney, whose two oldest children are now 18 and 21.
With a father who was not German, the children rebelled at their mother's attempts to make them speak differently from anyone else they knew, even if it was only at home.
Rigney found she didn't have the stamina to make the lessons stick.
Now with a 4-year-old son to raise, Rigney is changing her approach.
She has founded and coordinates a German play group on the Northwest Side so families can immerse themselves in the German language and culture for a few hours on the last Sunday of each month.
The group is a spinoff from one that meets every month at the Himmel Park Library, 1035 N. Treat Ave.
"As a working parent, it was hard for me to make the midweek meetings Downtown, plus they are held almost an hour's driving time away," Rigney said.
Some other families from that group expressed to Rigney their interest in forming a weekend group on the Northwest Side. In April of last year, Rigney held the first meeting, at the Nanini Library, 7300 N. Shannon Road.
Last Sunday, the Nanini meeting room was abuzz with small children running circles around their parents, playing with toys off to one side and waiting for a puppet show to begin.
About a dozen families were there, with children as young as infants and a few old enough for preschool. The group is designed for toddlers up to age 8. Rigney clapped her hands and made an announcement in German. The families formed a large circle and sat down.
In German, she introduced herself, and her 4-year-old son, Jimmy, followed suit. Everyone in the circle, young and old, introduced themselves.
Rigney uttered another string of German words and gestured toward a puppet stage set up behind her. Several of the children cheered.
Once the puppet play began, it became clear just how much communication takes place nonverbally.
Though the play was spoken entirely in German, a non-German speaker could easily tell that it was about a princess — Prinzessin — who had been turned into a bird by an evil witch. Somehow, the spell was broken, and the princess returned in human form, amid much applause from the audience.
One of the main characters in the show was a slightly impish-looking jester. Rigney explained afterward that his name is Kasperle, and he is a common narrator in German puppet theater.
Rigney's parents, Viki and Manfred Staedter, are both German. Vicki Staedter said she was a little surprised when no massive cheer rose from the crowd on seeing Kasperle. That's what the children do in Germany, she said.
The Staedters were in town from Ulm to watch Rigney's 18-year-old daughter graduate from high school, and coming to the play group was a treat for them.
Viki Staedter said she remembers how her daughter tried to teach German to her two older children. She's glad Jimmy gets to see that his mom isn't the only one who speaks that funny way, as his older siblings thought.
Jimmy is fluent in English and German, and he has a buddy at the play group who is as proficient as he is, and near his age to boot.
Mark Haupt, 5, is the son of German parents Michaela and Frank, who moved to this country six years ago from Stuttgart.
He and Jimmy are inseparable during play time, and beforehand each asks his mom if the other will be there, Rigney and Michaela Haupt said.
The best aspect of the group, Haupt said, is the activities centered on German culture. She's glad the children get to hear other children speaking German.
For herself, it's nice to have a chance to speak her first language, she said. Even after six years in this country, she finds, she still misses some things when they are spoken in English, so to have someone run it past her again in German is a bonus.
● Contact reporter Shelley Shelton at 434-4078 or sshelton@azstarnet.com.