Horne out of touch, program backers say
Arizona Daily Star
June 13, 2008
Debate over ethnic studies
Students say state schools chief needs to come to classrooms to learn more
By George B. Sánchez
Tucson, Arizona | Published: http://www.azstarnet.com/allheadlines/243603
<![if !vml]>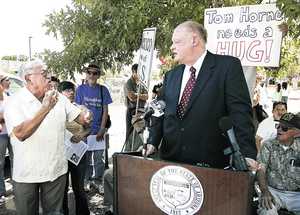 <![endif]>
Rudy Castro, left, and state Superintendent of Public Instruction Tom Horne engage in a spirited exchange during Horne's press conference on TUSD's Ethnic Studies Department. Horne's event was near TUSD headquarters, where the district held its own media gathering earlier.
BENJIE SANDERS / Arizona Daily Star
More Photos (1):
<![if !vml]>

<![endif]>
While Arizona Superintendent of Public Instruction Tom Horne spoke Thursday about why he thinks TUSD should eliminate its Ethnic Studies Department, Geovanna Valencia, 18, stood nearby with a sign that read "Tom Horne needs a hug."
The two had never met, but Valencia said she wanted Horne to visit with students in TUSD's Ethnic Studies Department, even though he continues to call for an end to the program.
Horne's press conference — and one TUSD staged directly beforehand — drew hundreds of people to district headquarters, 1010 E. 10th St., on Thursday morning.
Although the first press conference, which drew about 200 people, was orderly, Horne's, with about 100 people attending, descended into a shouting match among the crowd of adults and students. While opposing political entities, from conservative talk radio hosts to local Democratic officeholders took sides, many students attended, too, and said watching adults who have never been to their classes discuss them was disconcerting.
"Watching it was sickening, like the feeling you get before a fight, when you don't know what's going to happen," said Armando Sotelo, a 19-year-old graduate of TUSD and its Ethnic Studies Department.
TUSD officials have released nine cohort studies that show Raza Studies students outscored their peers in reading, writing and math on the AIMS test, Arizona's Instrument to Measure Standards.
In the 2006-07 school year, for example, 55 percent of juniors who hadn't passed the math portion of AIMS in prior years did so while enrolled in Raza Studies classes at four high schools. Meanwhile, only 18 percent of students at those schools who weren't enrolled in Raza Studies classes passed that same portion of AIMS.
Students in the Social Justice Education Project, under the Ethnic Studies Department, had a higher graduation rate than their peers, another study showed.
TUSD officials cited community support for the programs and non-quantifiable virtues, such as self-empowerment, intercultural dialogue and exposure to others' experiences, that they impart to students.
Horne, in contrast, called the department racist and divisive and said schools should focus on individual achievement rather than group and ethnic experience. He didn't question the academic benefit of the program, but the "values" he said it instills in students.
The event wasn't the first time Horne has raised questions about the department.
In November, he filed a public-records request with the district, asking for information on funding, training and curriculum. One month later, Horne concluded his inquiry and conceded he had no power to change what is taught in Tucson schools.
Horne told reporters Thursday he wanted to draw attention to a program he believes should be abolished.
Following the press conferences, a handful of students sat in the shade of a tree and reflected.
"There was never a moment in the class when I didn't feel completely welcome," said Clare Healy, 18, a recent graduate of Tucson High Magnet School. "The classroom was a safe haven for me."
Horne — who has never visited an Ethnic Studies class — is invited to see for himself, she said. "We would drop anything to have a civilized discussion about education with him," Healy said.
Students said the frustration of listening to Horne criticize a program he admittedly understands only through secondhand remarks and an overview of the curriculum drove some of them to lose their cool and participate in the unruly back-and-forth yelling that began when Clyde Phillips, 87, interrupted TUSD's press conference to accuse district officials of treason.
Horne's press conference, the students said, seemed nothing more than a media event.
"I think it was silly he even came. When someone asked a question, he said he would only take questions from the media," said Tanya Lozano, 18, a recent Rincon High graduate.
"If he wanted to talk to the media, he could have called them himself from Phoenix, instead of doing it here."
During the press conference, Horne said students in the class had been indoctrinated, something students said was offensive. They said the critical thinking encouraged in class gave a name to the racism and sexism they say they already experience daily. The classes are voluntary and open to all students, they said.
"They weren't forced on us," said Jose Estrella, 18, a graduate of Rincon High School who made the "Tom Horne needs a hug" sign. "We wanted them."
Most of the people who turned out Thursday did so to support TUSD, though several dozen held signs espousing stricter border-control measures and expressing anti-Mexican sentiment.
"They kept telling us to go back to Mexico," Estrella said. "We came here to talk about the program, not immigration."
During the press conference, Horne said he believes in individual rights, multiculturalism and inclusion of different perspectives in history and literature classes. Students say they've found that in the Ethnic Studies program.
"This is about community," Healy said. "In class, we say 'Tu eres mi otro yo,' Spanish for 'You are my other me.' "
Horne shook hands with 18-year-old Adam Perez and agreed to a conversation with the students, but they don't believe it will happen. Nonetheless, they said, the invitation stands.
"The doors are open, and he is welcome," Lozano said.
● Contact reporter George B. Sánchez at 573-4195 or at gsanchez@azstarnet.com.
DID YOU KNOW
TUSD's Mexican-American/Raza Studies program was created in 1998 after years of community organizing that began when a group called the Coalition of Neighbors for Mexican-American Studies, or CONMAS, presented a petition for a Mexican-American studies program to the TUSD Governing Board.
It's now part of the Ethnic Studies Department, which also includes Pan-Asian Studies, African-American Studies and Native American Studies.
Altogether, they have a budget of about $2.2 million.